Why Handmade Bak Kwa?
Despite the increasing mechanised food production and cost pressures, we recognise that making bak kwa by hand is superior and still produces the most authentic and consistent bak kwa texture, flavour and meaning still – of family, tradition and celebration.
Our Story
Peng Guan was founded in 2014 by Mr Zhang Ziyue and Mr Lee Kok Keong over their shared love for the traditional festive delicacy – barbecued pork jerky or bak kwa. With interest inspired and experience gathered from growing up in the bak kwa business, the duo would spend their weekends as hobby chefs, making bak kwa and gifting them to friends and relatives.
PENG GUAN TRADITIONAL RECIPE
Our Authentic Process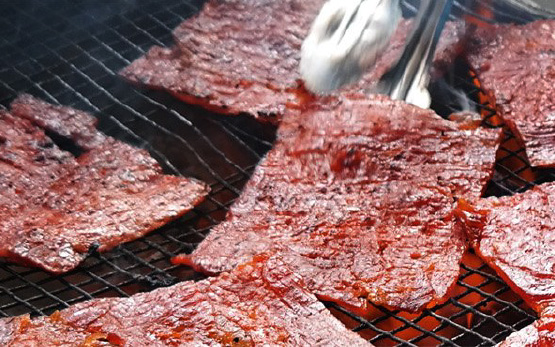 Brazillian Pork
We use only the freshest pork meat selected daily from trusted meat suppliers and stored safely in cooling rooms. With strong quality control and checks, we ensure only the finest meat so that you can enjoy that crisp and succulent bak kwa.
Charcoal Grilled
To produce the unique smoky flavour of our bak kwa, we retained the use of traditional charcoal ovens and stoves instead of electrical stoves. Our chefs manually flip every slice to ensure an evenly exposed and smoked well for top-tier consistency.
Handmade Daily
Our chefs are involved in every step of the process to ensure only the most superior quality. Under their skillful expertise, there's no slipshod work, no automation or heavy machinery, so each bak kwa piece is produced from scratch, one sheet at a time.
Peek Into Our Kitchen
Take a quick look into our kitchen – from the preparation of raw ingredients, incorporating our special marinate recipe to the barbecue process. Every package is freshly made to order and is the perfect Singaporean Chinese snack!
Singapore Bak Kwa Delivery
Delivery & Pickup Available
Have your favourite Bak Kwa delivered to you at the ease of your own home without any queues! Hurry place your orders as slots are limited. You may also walk-in or self-collect your items at any of our 3 retail outlets in Singapore.
SHOP ONLINE
STORE LOCATIONS