Authentic Handmade Process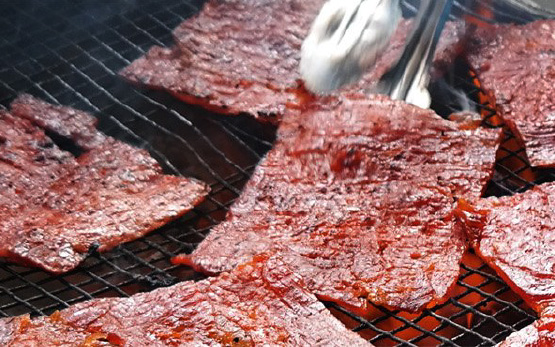 Brazilian Pork
We use only the freshest pork meat selected daily from trusted meat suppliers and stored safely in cooling rooms. With strong quality control and checks, we ensure only the finest meat so that you can enjoy that crisp and succulent bak kwa. We use leaner meat choices such as pork shoulder, without compromising the meaty flavour or juicy goodness.
Charcoal Grilled
To produce the unique smoky flavour of our bak kwa, we retained the use of traditional charcoal ovens and stoves instead of electrical stoves. Manning over the burning charcoal ovens at a consistent 100 degrees, our chefs manually rotate and flip them to ensure every angle of bak kwa meat is evenly exposed and smoked well for top-tier consistency.
Handmade Daily
Our chefs are involved in every step of the process to ensure we provide only the most superior quality of bak kwa for every customer, for every slice, for every bite. From sourcing, marinating, par-baking, separating and barbecuing, our chefs prepare everything by hand and grill them to perfection. Under their skillful expertise, there's no slipshod work, no automation or heavy machinery, so each bak kwa piece is produced from scratch, one sheet at a time.
Why Handmade Bak Kwa?
Peng Guan's founders, Mr Zhang Ziyue and Mr Lee Kok Keong have worked tirelessly to improve their recipe year after year, there was still one belief held common – that bak kwa should still be made from scratch by hand. Despite the increasingly mechanised food production landscape and cost pressures, they recognised that the traditional method of making bak kwa by hand is superior and still produces the most authentic and consistent bak kwa texture, flavour and meaning still – of family, tradition and celebration.
Our Media Highlights
Don't just hear it from us, find out what our friends online thinks about Peng Guan Bak Kwa Singapore!